History in a nutshell
1996
Construction company founded with production of masonry blocks
1997
Germany Building Exhibition - interest in facade systems
1998
Development of ventilated facade
1999
Montreal, Canada - signing a license agreement for the production and sale of ventilated Novabrik facades
2000
Hand made facade bricks
2001
Establishment of Novabrik Czech, s.r.o. (property right - 85% Novabrik International, Canada)
2002
Construction of an automated production plant
2003
Completion of construction
2003
Fire of the production hall before acceptance
2004
Reopening of operation
Production program: Novabrik facades, Novablok garden blocks
2006
Novelty on the market - 2x lighter facade brick with attribute Therm - Novabrik Therm is created
2008
New product in the range - Tri-Lock pavement
2011
New collection of a complete garden system for the construction of retaining walls, fences and staircases without concreting and concrete foundations - Stavoblock
2015
The Company Stavoblock System, s.r.o. established
2016
Purchase of Canadian share in Novabrik Czech, s.r.o.
2018
Upgrade in façade cladding - introduction of the Stavoblock façade
2021
Merger of Novabrik Czech with Stavoblock System (1. 7. 2021)
Change of ownership structure - company owners: Ing. Křivinka Zdeněk, Křivinka David, Ing.arch. Křivinková Šárka
Full story
It was back in 1996 when I and my associate decided to set up the company Krystal-stavby, s.r.o., manufacturing concrete goods. We rented an oldish agricultural building from Agro Sebranice in the municipality of Lezník u Poličky and bought the technology of semi-automatic moulding machine.

agricultural building / year 1996
Building exhibition 1997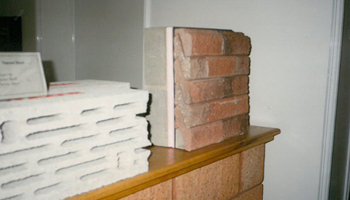 original photo of the model brick composition / Bauma Munich 1997
I desired to make the concrete production perfect and therefore, in April 1997, I and my associate attended building exhibition BAUMA in Munich. We came across an exposition by the BESSER Company from the USA. The stand showed many exhibits and on the information desk there was a small model of brick composition. I was really enthused by it. I wanted to know more. A Polish speaking exhibitor told us that it was one of many products which could be manufactured by their machines. He claimed that it was not manufactured by anybody else in Europe. Being cunning Czechs, we took a few photographs thinking that we will be able to manufacture the little bricks ourselves. Now I know that with the photograph we managed to obtain about 10 % of the entire product know-how.
It took me years before I managed to complete the design of the vented lining based on a photograph and to register the trademark Veneerstone. In the meantime, our financial partner decided to leave the company and he took the entire production technology along and never built it again. Fortunately, he was not aware of the new project; it was an opportunity. However, the current associate with a 50 % share was strongly opposed to it. It took a lot of effort to persuade him about the rightness of our journey.
We had a simple splitter constructed and put a Veneerstone brick mould in production. The product was supposed to be brought to public notice on the market, promotional materials were printed and sales representatives were offering it together with breeze blocks. One of the sales representatives, who was interested in wooden structures, attended the building fair in Brno at the beginning of April 1999. An exposition with Canadian wooden structures was hosted by a Pole again. He gave leaflets to our sales rep, along with the information that, together with a wooden structure, he can provide him with Novabrik facade!
Invitation to Montreal
The product similarity was unbelievable. I got the information straight away. I looked up Novabrik on the Internet and despite my lack of English I was able to read - - World patent pending! What comes next? I did not want to continue with the production and risk that the company would end up before an international court. My only option was to consider the most reasonable way. I have to contact the people and find a common solution. But how do I do that with no English? I wrote a letter saying: "Dear Sirs, we are a company from the Czech Republic and we manufacture a similar product as you do in Canada. Because your product is patented, we would like to ask you for cooperation. Look forward to your reply. Kind regards ….", I put the text in a translator, then put the translation in an email and sent it. Now I know that my English email probably was not grammatically correct. The wait for a reply was long. I received a short message on the third day: "Yes, we know about you. Be careful, we have patent. Best regards." I did receive a reply, but it was not satisfactory for me. I decided to contact the person who was translating for us. His name was George Rozehnal. He offered me his help. Coincidentally, he was leaving for Toronto the following week. He told me that he would try to arrange everything. I awaited a message from George. The days seemed never-ending. I got a message "everything has been arranged, they are waiting for you to come to them". I got an invitation letter signed by Mr Luck Vaillancourt, the president of Novabrik International. A visa had to be arranged then and I found myself on a plane heading for Montreal on 23. 5. 1999.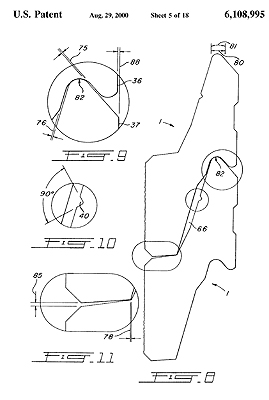 one of many drawings documenting resourceful shape of brick
Needless to say, language barrier was my handicap. I was hoping the whole time that George would wait for me in the arrivals lounge. It was a huge weight off my mind when I caught sight of him. Another unknown was the vice-president of Novabric who was supposed to meet us in the same place. A few minutes later, a self-confident man of about forty years of age, in good shape, turned up, looking for someone. George asked him whether he was expecting a visit from the Czech Republic and whether his name was Mr Simon Gauthier. With a broad smile he replied - "Yes"! Mr Guthier brought us to our hotel. He told us that we were invited for dinner with the president of Novabrik. In the evening we went to the English gentlemen´s club. Mr Luc Vaillancourt was waiting for us in one of the private rooms. I was asked to tell him my request. I told them our story. They were astonished to hear that my Veneerstone development took just two years. The facade system, together with the Novabrik brick shape, was being developed and tested for a number of years by a team of experts in the construction institute in oronto. The product developers were Mr Michel Bouchard, Marc Fortin and Paul-Emile Lambert – production engineers with the company Alba Produits Inc. During the business dinner, I was offered a proposal for cooperation in the form of a license agreement. I signed the agreement, left Montreal, went home and felt like a king. There was a small brick sampler in my suitcase.
Handmade production
The delivery of the mould for the brick production was delayed by two months. After the commencement of operation, we found out that it is not working. A different Czech manufacturer supplied another mould in October 1999, however, demoulding of the products failed. Only the third manufacturer managed to remove the mould. He was willing to sell us the promised line, we agreed on a price and a week later he informed us that he had sold the line to Russia. We kept failing to manufacture the bricks and orders from customers piled up. We approached another manufacturer who ensured us that the production is no problem. The euphoria was back, customers were waiting for the goods and we enrolled for the building exhibition in Brno. Several hours later I called the manufacturer and was told – "the brick production failed". What comes next? Import bricks from Canada? Nobody would pay the transport costs. Produce a new mould? That was impossible in terms of time and money. Company pessimists started to say: - "I was right, we should have stayed out of it." It only confirmed my determination not to give up! An idea turned up. We will be producing bricks by means of vibratory casting! It involved a demanding process with a lot of waste. It was May 2000 and we started with the production. We had many orders and the only solution was machine production. I frantically started seeking funding. Neither Czech banks, nor the Venture Capital Fund would grant us credit, or if, it would be under very unfavourable conditions.
Looking for investor
August 2000 was drawing near, as was a visit from the Canadian Novabric. I asked George whether he could try to approach a Canadian bank in relation to funding. This is when this man significantly contributed to my business life for the second time. It is not possible to forget his words when he told me: "Canadian banks will not grant you any loan but I have a better idea. Try to approach the provider of the manufacturing licence!" That´s what I did. In August, Mr Simon Gauthier and the company president, Mr Luc Vaillancourt, visited our "manufactory". I was afraid that when they see our production, they´ll revoke our licence. The reverse was true. When they saw our effort and the fact that we did not give up despite problems, they paid us a compliment and offered a helping hand in relation to funding. In my point of view, it was a big adventure for our Canadian partner. I appreciate his trust most of all. He was able to conclude business cooperation for at least the next fifty years just with a gentlemanly handshake. The trust in each other, that was the driving force, and despite not knowing each other, we made it. Thank God, this relationship between us is still there.

…and this is how it really started
Construction of production technology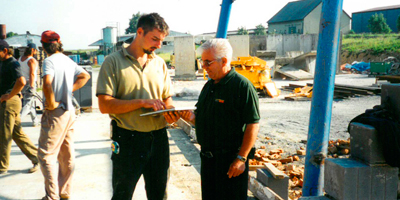 David Křivinka and Paul-Émile Lambert – both of them have been very contributed on construction of production factory
You could say how easy it must have been when he was backed by foreign capital. However, it was not easy at all. We had to establish a production company because the foreign partner did not want to enter the existing company Krystal-Beset. On 20. 9. 2001, the company Novabrik Czech, s.r.o. was set up whose owners were the companies Novabrik International Inc. and Krystal Beset s.r.o. At the turn of 2001 and 2002, we managed to purchase a part of the premises from Agro Sebranice (ca. 10 000 m²). Commencement of the building reconstruction and transformation to a manufacturing facility followed. In spring 2002, a production line in Maarssen, Holland, was purchased from the company MBI Beton, it was dismantled and transferred to the Czech Republic. Other parts were imported from Canada and the USA. The line disassembly and assembly was conducted with substantial assistance from Mr Paul-Émila Lamberta from Alba Produits Inc. At the beginning of summer 2003, we succeeded in reviving the production line. A period of trial operation started. The commencement of the production process for real was scheduled for autumn 2003..
Black Saturday
It was Saturday morning, 13. 9. 2003. My mobile phone rang at home at 6:15 a.m. Still a bit sleepy, I picked it up. A male voice announced: "Good morning, this is the police of the CR. Am I talking to Mr Křivinka, the owner of the factory in Lezník?" I replied: "Yes, I am. What is going on?" The voice on the other side continued: "Please hurry up to the factory, the manufacturing facility is on fire!" I could smell smoke when just in Polička, but I was still hoping that it would be a different building. When I arrived at the place, I was petrified. The roof above the production facility was on fire. More than 80 firefighters were struggling with the fire. At around 3 p.m., the fire was almost put out. I wouldn´t wish anyone to experience the sight and the feelings that I and my loved ones had. The damage exceeded 20 mil. CZK. Subsequent investigation by the Police and experts showed that the fire had been started deliberately in three places by means of an incendiary. Unfortunately, the property insurance was very small as the final building approval of the facility had not been granted.

dohašování trying to put fire out on the faktory and consequences
New beginning from the ashes
What comes next? The manufacturing facility was ready for bulldozing. It was havoc, whatever had not been destroyed by fire, it was destroyed by water. On Monday, I announced the bad news to the majority owner. His trust was demonstrated here fully for second time. They backed up the whole project even though Czech banks turned their backs on us. Despite the high mental strain, our staff threw themselves into clearing rubble the very next day. Also thanks to the help of our subcontractors it was possible to dig the facility out of the ashes and reconstruct it so that it was possible to re-open it on 23. 5. 2004.

slavnostní Ceremony of opening production factory Novabrik Czech on 23. 5. 2004
Meeting with the President of the Czech republic, Mr Vaclav Klaus

Primary production was focused on façade bricks Novabrik with appurtenances and retaining brickwork Wallbrick (subsequently Risistone and Novablok). A year later, a new dimension was added to Novabrik bricks and Novablock Easy was launched as well. In 2006, I came up with the idea of producing Novabrik Therm using pearlite, which involved a brick twice as light, with excellent characteristics. At the beginning of 2008, the range of products was enriched with Tri-Lock paving. In 2011, I brought my patent of garden products Stavoblock to life.
Bussines partner
The year 2011 was very important in another matter as well. At the beginning of June, the company partners of Krystal Beset, s.r.o. and Novabrik Czech, s.r.o. made an arrangement on the ownership settlement. On the face of it, it is seems to be an easy transaction if concluded among reasonable people. The shares were sold. Everything seemed to be ok. The ex-associate, his wife and daughter, who had been working in the company, used the opportunity to misuse confidential information available to them. After they had left, they started to dictate inadequate conditions regarding the purchase of products, and threatened to start up their own production and destroy Novabrik if we did not agree to the terms. They did not hesitate to write a slanderous letter about me to the majority partner in Canada. To no effect. They lodged a criminal complaint. To no effect either. Their mischievous conduct continues to this day. They allowed the company Krystal Beset to nearly pass out of existence and they call themselves by a different name. Today, I see this as one of the most important steps I have taken in my business life. It was experience which moved, and still moves, me and my company forward.
Patience brings roses
That's what we can call the period from 2012 to 2015, written by life itself. Our Company was also affected by the economic crisis in the building industry, intensified by the unfair competition. We approached the whole situation as a new challenge that we overcame with our own strengths and the great cooperation of the entire Novabrik Czech team. When I say "overcame", I recall many happy as well as unhappy memories of this time period and that makes me appreciate my colleagues, and particularly my family and my wife even more because they worked as a military pontoon on a heavy sea and held everything above water. I am also very grateful to our customers who approached us and let us help them solve their requirements.
March 16, 2016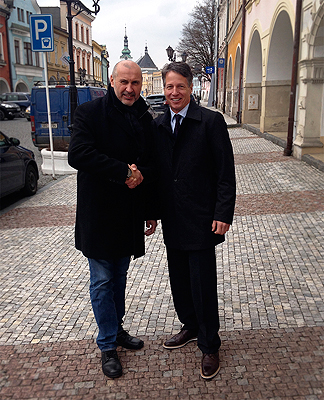 In summer 2015, the majority owner, Novabrik International Inc. Canada, announced its final decision to leave Novabrik Czech s.r.o. This decision was a starting point of a brand new challenge that could completely change the direction of Novabrik Czech and its employees. It was the beginning of a whirl of discussions, negotiations, solution-seeking, finding new contacts, meetings and approvals. On 16 March 2016, Novabrik Czech held a general meeting where the share of the majority owner, Novabrik International Inc. Canada was transferred to Dr. Postman, whose sole proprietor (100 %) is Ing. Zdeněk Křivinka. On that day, a large chapter in the life of Novabrik Czech was brought to a close.
And it was brought to a close with dignity and amicably as befits reasonable partners – by shaking hands. We never know who we need who in the future. I would like to thank the people of Novabrik International Inc., particularly to Mr Simon Gauthier for all they have done for Novabrik in the Czech Republic.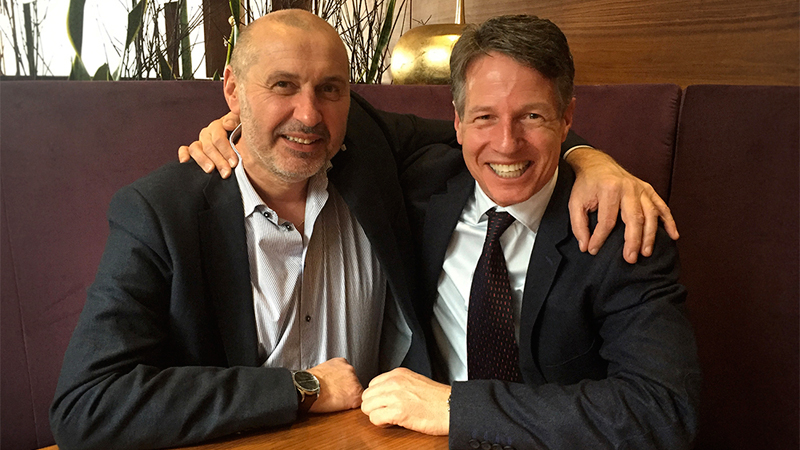 On that day, a new chapter of Novabrik Czech s.r.o. began under an old and new family management. On that day, we also started our web presentation for our current and future customers and added our story. We started to work intensely on finishing the innovation processes we are preparing for you so that we can solve your customer needs even better than before.

Ing. Zdeněk Křivinka, the owner of the Stavoblock trademark and several other patents, is now the only owner of Stavoblock system, s.r.o. and Novabrik Czech, s.r.o. In spring 2018, the entire Stavoblock production programme is transferred to Stavoblock system, s.r.o. Therefore, spring 2018 will become another important milestone in our history, as we are introducing a new type of diffusion-ventilated Stavoblock facade to the market. We thus continue on our journey of improving the services for our dear clients…

Thank you for trusting us.